Corbett Wild Iris Spa & Resort, Ramnagar
Corbett Wild Iris Spa & Resort
Corbett Wild Iris Spa & Resort is one of the most fun-filled resorts in Corbett.
It is a premium getaway resort at Ramnagar nearby of Jim Corbett National Park.
The resort is located in a scenic spot in the lap of nature and is a perfect destination for spending your weekend.
The resort is surrounded by a mango orchard offering thatched cottages and tents, thick natural trees, and an enchanting chorus of forest birds.
It offers a range of activities like Cycling in the Jungle, Long Nature walk, private spa areas, and Jungle safaris.
Corbett Wild Iris resort is an ideal location for gateway seekers, leisure and business traveller as it has amazing interiors with all the necessary facilities.
Iris Spa & Resort do not prefer to restrict the word 'luxury' only to elegant surroundings, voguish layouts and finest meals but believes in bestowing a memorable experience with greater enjoyment.
They provide great hospitality and services with the help of a personalized expert and competent staff.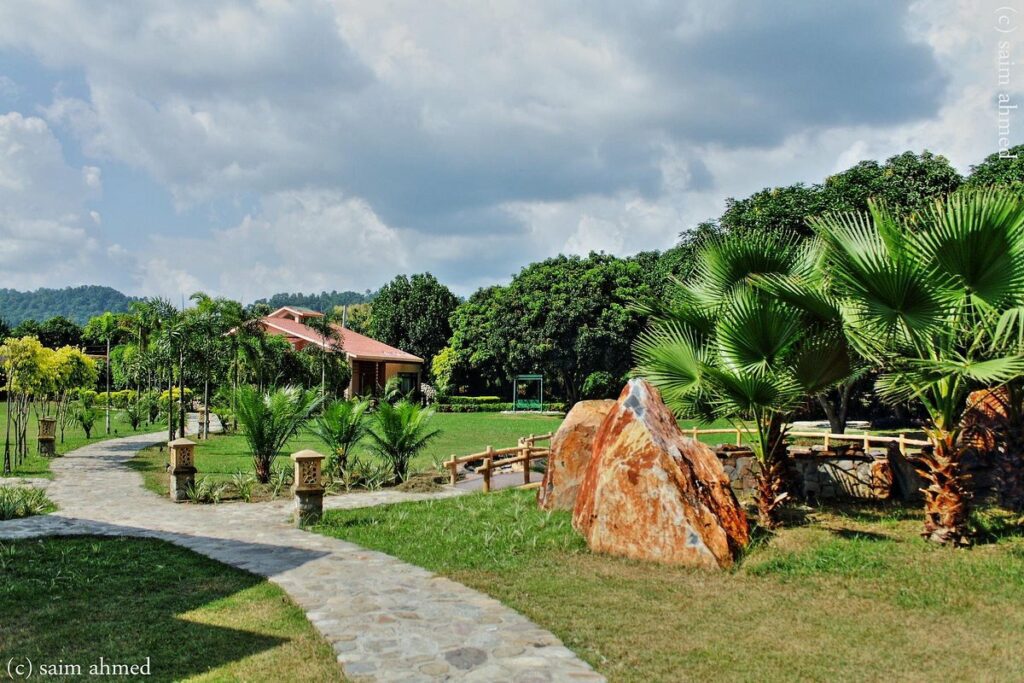 If you want to experience the unseen Iris Spa & Resort welcomes you to encounter the pristine beauty of an Indian jungle.
Corbett Wild Iris Spa & Resort, Location
Iris Spa & Resort is set in beautiful natural surroundings with varieties of flora and fauna.
It is located away from the hustle and bustle of the city, 6 km inside the jungle.
Strategically located in the town of Ramnagar, Corbett National Park this resort speaks a pure essence of Nature and wildlife.
Its official address is: Village Kyari Kham, Nainital Road, Corbett National Park, Uttarakhand, Ramnagar, Uttarakhand 244715
The nearest Railway Station is Ramnagar (15 km) and the nearest Airport is Pantnagar (85 km).
It is indeed a dream destination for wildlife and nature lovers and endeavours to show the true beauty of Corbett.
Corbett Wild Iris Spa & Resort, Tariff
Corbett Wild Iris Spa & Resorts offers 43 Luxurious and spacious rooms and cottages. Each room is designed in a way to take care of the comfort and privacy of the guests.
Guest rooms are designed with all modern Luxuries with a King-sized bed, living space and a private open deck.
The rooms at Kunkhet Valley Resort are categorized namely as: Jungle Cat Deluxe cottage, Leopard Duplex, Tiger suite and Tusker Suite rooms.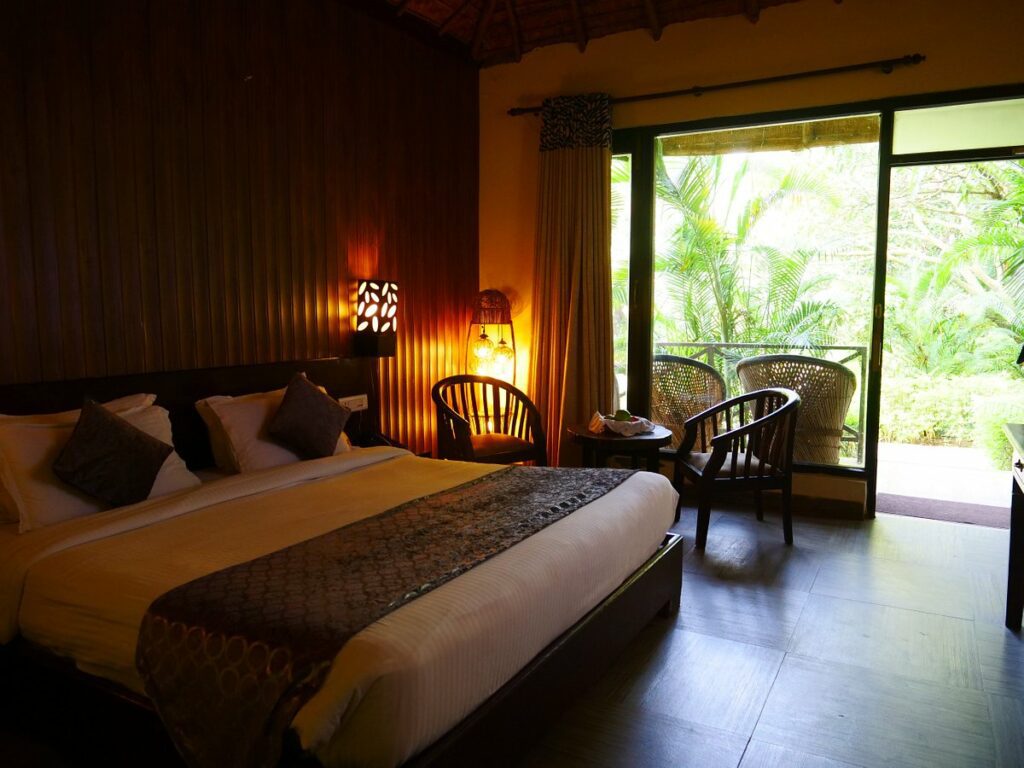 The standard cost for the rooms are:
Jungle Deluxe Cottage- Rs. 4,779 per night
Leopard Deluxe- Rs. 5,279 per night
Tiger suite- Rs. 5,779 per night
Tusker Friends and Family suites- Rs. 6,279 per night
All rooms are well furnished and designed keeping in mind the ultimate comfort for the guests.
This arrangement brings an incredible experience of stay coupled with a refreshing spa, swimming pool and restaurant facility.
Corbett Wild Iris Spa & Resort, Facilities
Iris Spa & Resort provides you with a wide range of facilities that you can experience during your stay.
They provide in-room amenities with AC, LCD TV, refrigerator and safe deposit box and room service.
The resort features Spa offering wide ranging massages and therapies, a bar and a multi-cuisine restaurant, a swimming pool, a discotheque, a gymnasium, a guest relation desk, and a Doctor on call.
They also seek to offer activities including jeep safari, canter safari, elephant safari, river rafting, rappelling, river crossing, rock climbing and rafting.
Corbett Wild Iris resort also has a convention and banquet hall for conferences, events and meets.
Iris Spa & Resort has the best to offer if you are looking for a stay to make your leisure time memorable and filled with adventures and enjoyment.
If you like this information about Corbett Wild Iris Resort, Ramnagar and want to know more about Jim Corbett National Park then Please connect with us on our Facebook and Instagram pages